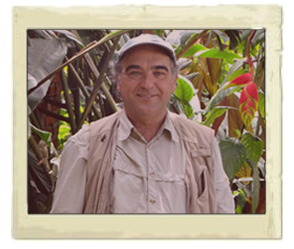 Born in Cuenca. He moved to Barcelona very young and to Loporzano (Huesca) in 1994, founding with Esther Diago the Birdwatching Centre "Boletas". He is the principal of Boletas Birdwatching Centre and guides most tours. Josele has led over 150 groups in Spain and Morocco. His expertise and in-depth knowledge of these regions is well known to clients from across the United Kingdom and the United States of America.
Member of SEO-Birdlife, among other conservationist groups. Associated with mountaineering groups in Catalonia since the age of 10, he is well acquainted with the pre-Pyrenees and the Pyrenees and all the good ornithological sites in the north east of Spain. In 1984 he moved to England to study English, where he lived for a year and acquired his interest in birds. Since the 80's he has been a keen visitor to the network of natural areas of Spain, especially Catalonia, Aragon, Picos de Europa and Extremadura, in order to develop his ornithological interest. As a nature guide and educator he has collaborated as a mountain and birdwatching guide for individuals and companies: Sheffield Walking Group-UK, Horizon Nature-F, Sherwood Bird Tours -UK, Birdseekers- UK, Dursley Birdwatching Club-UK. Ibis Excursions-DK., Clem Dietze-USA, Challenger Tours-USA. Victor Emanuel Tours-USA, Limosa Holidays-UK, Heatherlea Wildlife-UK, Aragon Natura-NL, Celtic Bird Tours-UK. Active participant in conservation work and studies of birds in Aragon, monitor of IBA 164 Sierra de Guara.Undertakes frequent personal bird watching trips around the Western Paleacrtic ( ie: Iceland, UK, Turkey, Israel, France, Finland , Morocco). Fluent in Catalan, English and French. Josele has guided tours in Spain, Morocco, Israel, Galápagos, Cuba, Namibia , Bulgaria, Uganda and Iceland.
Mr. Josele J. Saiz is an expert in the design and organisation of birdwatching and nature holidays, he can work out customised walking and birdwatching/nature tours for any number of persons anywhere in Spain or Morocco. Just tell us which species you would like to observe or which sites you want to visit. His intimate knowledge of our country permits us to guarantee a high success level in the observation of the most sought after species. We offer tours to other birdwatching companies, bird clubs or nature groups our experience and ability in the organisation of tours , being Spanish ground agents for several of them.