Dates
-
Tour Cost
-
Single room supplement
-
Group size
12 plus two leaders
Tour leader
Orestes Martinez or Frank Medina, local expert guide in butterflies, cuban culture guide
Airport
London - La Havana - London
W

hat´s included

All ground transport, all meals (except dinners in Havana), services of guides and reserve entrance fees. Internal flight from Cayo Coco to La Havana if we use it.

Boletas made a few changes in 2016; the addition of one extra day in Viñales (the beauty of the whole area deserves more than a one night stay - as recommended by previous participants), also an internal flight (now with new aircraft) from Cayo Coco back to La Havana) to avoid a very long drive.
W

hat´s not included

No international air fares are included or any overnight stay that may be involved, visa cost for entrance and departure Cuba (25CUC), travel insurance, drinks and any items of a purely personal nature,dinners in Havana and entrance, if required, to Cuban music clubs.
T

our code

On this tour we will explore the most famous Cuban birding spots looking for its endemics, as well as an introduction to the Cuban butterflies with more than 80 species to be recorded. Easy walking but could be muddy after rains at Cienaga de Zapata.
S

elected species list

Cuban endemics: Bare-legged Owl, Bee Hummingbird, Blue-headed Quail-Dove, Cuban Blackbird, Cuban Gnatcatcher, Cuban Grassquit, Cuban Green Woodpecker, Cuban Kite, Cuban Macaw (extinct), Cuban Palm-Crow, Cuban Parakeet, Cuban Pygmy-Owl, Cuban Solitaire, Cuban Tody, Cuban Trogon, Cuban Vireo, Fernandina's Flicker, Giant Kingbird, Gundlach's Hawk, Oriente Warbler, Red-Shouldered Blackbird, Yellow-headed Warbler, Zapata Rail, Zapata (Cuban) Sparrow, Zapata Wren.
Introduction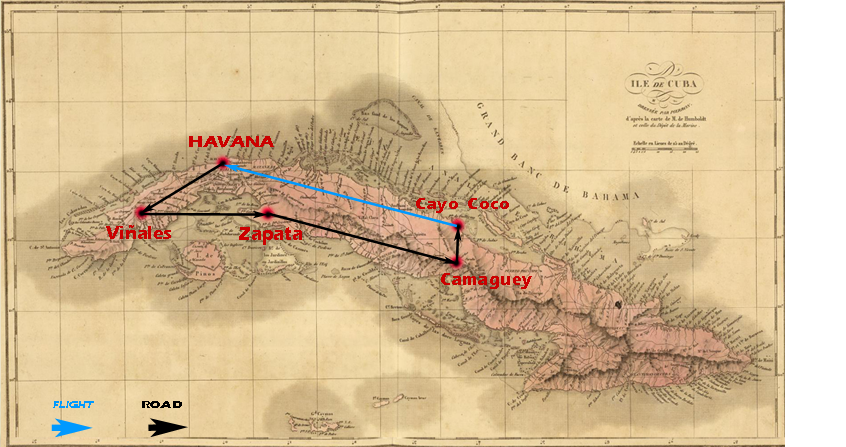 Cuba is the largest island in the Caribbean and has 24 endemic bird species (only Jamaica has more). The world's smallest bird, the Bee Hummingbird can be found there along with the beautiful Cuban Trogon (Cuba's national bird), and numerous other 'West Indian' specialities. Over 350 bird species have already been recorded on the island.
Although the major interest of birding trips to the West Indies in general lies with the endemic bird species, we will also study the important numbers of migrants passing through or wintering there.
It's possible to see more than 130 species of butterfly in Cuba during April and in the areas to be visited there are 17 endemics. If our tour group size exceeds six persons, then we will include a butterfly expert from the Havana Natural History Museum.
Cuba is an elongated island. Its topography comprises three mountain chains – the Guaniguanico Cordillera to the west, the Sierra del Escambray in the centre and Sierra Maestra to the east. The remainder is mostly flat landscape and there is also a large swampy region (Cienaga de Zapata) located south-east of Havana, which supports 19 of the islands 24 endemics.
Most people identify Cuba with Fidel Castro, old American cars, rum and big cigars, but the most important identity of the island is music – the Cubans live for music. The first and last day of the tour are therefore designed to fulfil the Cuban music experience, visiting local Cuban music clubs for live concerts. This will enable you to embrace two aspects of Cuba; the abundant bird life and its cultural musical heritage.
Itinerary
Day 1 / : Fly from UK to Havana (optionally via Madrid or Paris) – Meet the group at Havana airport and transfer in mini-bus to Hotel Santander or Tejadillo old Havana, a charming colonial style small hotel in the heart of the old city. Live music is always at the bar. Overnight in La Havana.
Day 2,3 / : – La Guira - After breakfast we will head to our birding destination, the nearby mountaineering forest of La Guira, once a refuge of Che Guevara, a legend in Cuba. In this beautiful area we will find some of the most interesting Cuban endemics such us the lovely singer Cuban Solitaire with its monotonous rich sweet song, the very colourful Cuban Trogon, the Olive-capped Warbler which we may not see anywhere else and the endemic Yellow-headed Warbler among other birds could also enrich our bird list. Just before dinner walk in the surroundings looking for nocturnal birds like the endemic Cuban Screech-owl and Cuban Pygmy-owl. Overnight in Viñales.
Day 4 / : Soroa-Zapata Cienaga National Park. Birding walk in the area. Soroa is a privileged spot for bird-watching. This is natural habitat for forest birds, including both migratory and resident birds. Also we can see some of the most charismatic species, among them endemic birds such as the Gundlach´s Hawk, Cuban Tody, Cuban Green Woodpecker, Cuban Blackbird and several neotropical american warblers on migration such as Magnolia Warbler, Northern Parula and Black and White Warbler. Lunch in the area and departure heading to the famous Zapata Peninsula. Birding on route with chances for Snail Hawk, Osprey and Reddish Egret. Around our hotel we will look for Cuban Parrot, Yellow-crowned Heron and Stygian Owl. Overnight in Playa Larga.
Day 5 / : Zapata Cienaga National Park. Early morning we will start by looking for Antillean Nightjar and the difficult Zapata Wren. We still be exploring the Zapata National Park searching for the endemic Zapata Rail, Zapata Sparrow and visit the deciduous forests at La Ceiba, near the village of Bermejas, in search of woodland species. Mixed warbler flocks should be present, and we have a chance of seeing a dozen or more North American neotropical migrants, including Worm-eating Warbler. The endemic Yellow-headed Warbler is quite common in these woodlands, as is the Great Lizard-cuckoo. These woodlands also support the endangered Fernandina's Flicker, a truly exquisite bird that is becoming increasingly more difficult to locate, along with the incredibly beautiful Gray-fronted Quail-dove and Blue-headed Quail-dove both being extremely elusive. Overnight in Playa Larga.
Day 6 / : Zapata Cienaga National Park. Early morning start for a full day of Bird watching. We drive to the tidal flats and mangrove shorelines at La Salina along the south shore of the Zapata Peninsula. The now endemic Cuban Black-hawk is found here as well as the endemic Cuban Martin. La Salina is justly famous for its birdlife holding an incredible collection of birds, egrets, flamingos, ibis, shorebirds the always exciting Black Skimmer and the rare Wood Stork roosting on its unique breeding colony in the island. In the afternoon, we visit Los Canales, an area of canals and rice fields that support a large population of Snail Kites. Also there is a good chance of seeing the endemic Gundlach's Hawk, a very scarce bird. Overnight in Playa Larga.
Day 7 / : Camaguey. After breakfast we will head to Camaguey, a long driving day with several stops for birding. First stop at the River Sasa where Limpkin is possible. Other stops include the Rio Azul and Santa Clara with Gundlach's Hawk, Cape May, Yellow-throated Warbler, Indigo Bunting, Ovenbird and Yellow-faced Grassquit. Overnight in Camaguey.
Day 8 / : Finca La Belen - Sierra de Najasa. All day birding in this famous area where the number of Cuban endemics is remarkable. We will visit our regular sites for the globally endangered Plain Pigeon; also here are both Cuban Crow and Cuban Palm Crow. At El Belen itself we will concentrate on another globally threatened bird, now endemic to Cuba: Giant Kingbird. Other species to be found in this area include Cuban Parakeet, Fernandina's Flicker, Cuban and Yellow-faced Grassquits, Gundlach's Hawk and yet more wintering North American warblers. We will also check a nearby lake for West Indian Whistling-duck. Overnight in Camaguey.
Day 9 / : Cayo Coco. After breakfast we will be ready to head to Cayo Coco. On our driving through the deserted Cuban motorways, Turkey Vultures and Red-tailed Hawk fly over the fields of sugar cane and tobacco where wander little parties of Smooth-billed Anis, Eastern Meadow Larks, Red–shouldered Blackbirds. Although the best birding is to be found in the gardens nearby plantations of shady trees surrounding roadside service stations and restaurants. Here Cuban Green Woodpecker and Red-legged Thrushes share the edge of the gardens and dead trees with northern migrants such as Black and White and Palm Warbler and the superb American Redstart. In the afternoon we will visit Cayo Paredon Grande where Cuban Gnatcatcher and Thick-billed Vireo are our main targets. Overnight in Cayo Coco.
Day10 / : Cayo Coco is situated on an island off the north coast of Cuba, we will spend the day exploring Cayo Guillermo, the different habitats in this area connected to the mainland by a causeway. The number of islands which form the archipelago is "infinite" completed with a mixture of different habitats; from sandy beaches to coastal lagoons and swaps of varying sizes. This interesting mosaic gives excellent birding possibilities for birds such as Bahama Mockingbird, Zapata Sparrow, White-eyed Vireo, perhaps the rare Gundlach's Hawk, and a good collection of herons. Brown Pelican, Roseate Spoonbill, Royal Tern, many waders also frequent the tidal flats. Overnight in Cayo Coco.
Day 11 / : Relaxed morning birding in the Cayo Coco area looking for wintering waders, egrets, ibis and other wildfowl. In the afternoon flight from Cayo Coco to Havana and check into our hotel. In our last night in Havana we will have a special dinner in the heart the old town. After dinner there will be an optional visit to a jazz club, El Zorro or El Cuervo, with live Cuban jazz music. Overnight in La Havana , Hotel Santander or Tejadillo.
Day 12,13 / : In the morning we will do some birding visiting the extensive Lenin Park where Great Egret, Anhinga, Great Blue Heron and Northern Jacana occur in the main lake. After lunch in our hotel free time to visit the Havana Old Town for last minute shopping. Transfer to airport for flight home. You will arrive one day after.
Galery