Dates
-
Tour Cost
-
Single room supplement
-
Group size
12 plus two leaders
Tour leader
Josele J Saiz and Chris Hall
Airport
UK-Dubai-Seychelles-Dubai-UK
W

hat´s included

All ground transfers, return flight from Mahe to Bird Islands , five nights half board en-suite accommodation, four nights full board en-suite accommodation, boat trip to Cousin, return ferry to La Digue, all reserve entry fees, bird checklist and the services of your guides.
W

hat´s not included

Flight from / to UK, Travel Insurance, internal return flights between Mahe and Praslin ( +/- 50 GBP each way) all drinks, tips & items of a personal nature.

ENTERING SEYCHELLES - No visa or vaccinations are required and there is no risk of Malaria.
T

our code

Paradisiacal sandy beaches, palm trees & turquoise seas in an Indian Ocean tropical paradise  full of endemic birds and spectacular seabird colonies – terns, noddys, frigatebirds, unique  flora, insects and reptiles.
Opportunities od swimmimng and snorkelling. Clients are free to join as many or as few of the excursions as they wish and there will be time on most if not all days to spend time relaxing by the pool or on the beach, so this trip would also suit non-birding partners.

Introduction
With palm-fringed white sandy beaches, lapped by calm warm crystal clear turquoise water, home to coral reefs and rainbow-coloured tropical fish, the Seychelles are said to be the most beautiful islands in the world. No wonder the friendly natives have such an easy going laid back lifestyle. While non-birders will love this dream destination, it has even more to offer us, as this isolated archipelago, a thousand miles from anywhere, has twelve of the world's rarest endemic birds, like the superb Seychelles Paradise Flycatcher, and is a magnet to spectacular crowds of literally millions of seabirds, which can be enjoyed at incredibly close range, ideal for photography. These isolated islands are also visited by interesting wanderers such as Crab Plover, Lesser and Greater Sandplovers, Pacific Golden Plover, Terek Sandpiper and Blue-cheeked Bee-eater. While visiting five different islands, this trip will have a relaxed pace with ample opportunities for sightseeing, swimming, snorkelling, or just 'chilling out' on the beach. It's up to you. July is the coolest month in this part of the Indian Ocean, with sea breezes, lower humidity and lovely weather, coinciding with the peak of the seabird breeding season. A definite highlight will be our three nights on aptly named Bird Island, with its frenetic colony of around 1.5 million Sooty Terns, as well as tree-nesting Brown and Lesser Noddies and White Terns. This amazing little island is also home to Esmeralda the world's largest giant tortoise, weighing 6 hundredweights and thought to be over 200 years old! Bird Island is definitely one of my favourite places on the planet. So, come along, see for yourself and make your dreams come true, on this wonderful trip to paradise.
Itinerary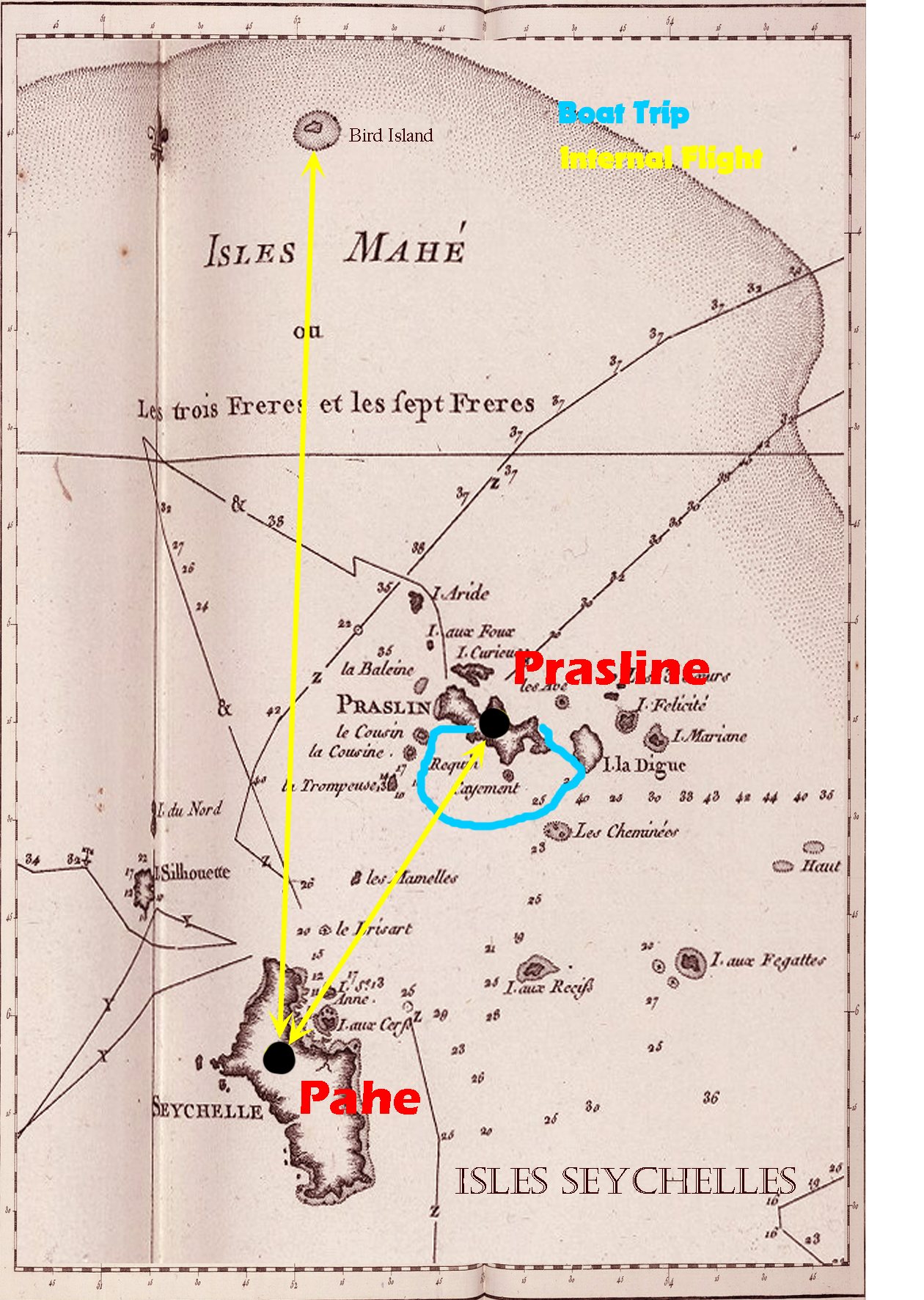 Day 1 From Mahé, the main island in the Seychelles, it is a 15 minute flight to the beautiful island of raslin, where you will be collected and taken to the fabulous Villas de Mer, our accommodation for four nights while on Praslin. The recently refurbished plantation style villas are set amid tropical gardens, just a few steps away from the idyllic white sand of Grande Anse Beach with views of Cousin and Cousine islands and spectacular sunsets. Each villa has a private verandah, en-suite bathroom, tea and coffee making facilities, ceiling fans and air-conditioning. We have the afternoon at leisure to enjoy the local birdlife while relaxing in this quiet peaceful setting, before having dinner in the beach restaurant offering excellent Creole and international cuisine. What a choice!
Day 2 This morning we take a short boat ride to tiny uninhabited Cousin Island, accompanied by an expert local guide. This nature reserve, owned by Birdlife International, is a must for its endemic landbirds including Seychelles Fody, the very rare Seychelles Warbler, the local red-headed race of Madagascar Turtle Dove and Seychelles Magpie-robin, another of the world's rarest birds, which often follows the Giant Tortoises as they lumber around the island. Cousin also has large colonies of nesting seabirds from seven species; Audubon's and Wedge-tailed Shearwaters, White-tailed Tropicbird, Brown and Lesser Noddies, Bridled Tern and the delightful White Tern, the only pure white tern in the world. These obliging birds are incredibly tame and offer golden photo-opportunities. After a magical day with a barbecue lunch by the beach, in the company of Seychelles Fodies and Giant Tortoises, we shall return to Praslin for dinner back at the Villas.

Day 3 Today we take a short ferry ride, with our local guide, across to the quaint jetty of La Passe, on La Digue, a quiet island renowned for spectacular granite boulders, stunningly white sandy beaches and the only place for the fabulous Seychelles Paradise Flycatcher, with its incredibly long wispy tail feathers. We can also look out for Seychelles Swiftlets, Blue Pigeons, Bulbuls and Sunbirds. This afternoon there will be time to enjoy one of La Digue's famous beaches before catching the late afternoon ferry back to Praslin.
Day 4 This morning we stay on Praslin where our local guide will accompany us on a visit to the Vallée de Mai National Park, a World Heritage Site, where the unique Coco de Mer palm tree produces the largest seeds in the world. This prehistoric palm forest is home to several endemic Geckos as well as Seychelles Bulbuls, Sunbirds, lovely Blue Pigeons with a splendid combination of red, white and blue, and the Seychelles Black Parrot, the national bird of the Seychelles. Hopefully we shall also find huge Seychelles Fruit Bats, dangling from the trees. In the afternoon we shall return to the Villas for some 'r & r'.
Day 5 We depart Praslin on a flight back to Mahé, to connect with a 30 minute flight to Bird Island, where we shall enjoy three nights at the lodge, with some of the world's friendliest full board, in simple but luxurious chalets surrounded by palm trees and nesting seabirds. This tiny coral cay, less than a square mile in area, is the quintessential desert island with a true castaway feel.
Days 6 & 7 We have the luxury of two full days to do nothing but chill out and enjoy the privilege of being on this remarkable island in the company of over a million birds from twenty different species! No wonder this is called Bird Island. In this paradise for birdwatchers and photographers, we can keep a look out on the beach for exotic shorebirds, like the strange Crab Plover with its oversized bill, and inland we can say hello to Esmeralda, the world's largest tortoise, weighing 6 hundredweights and thought to be about 200 years old!
Day 8 We have more quality time on Bird before departing late morning on the short flight back to Mahé, where we shall be collected and taken to the Crown Beach Hotel for a two night stay. This small hotel is idyllically placed just a few steps from the secluded Pointe Au Sel beach, with a fabulous pool within sight of the Indian Ocean. This afternoon we meet our local guide for an outing into the mountains of Morne Seychellois National Park in search of Seychelles Kestrel and the elusive Seychelles White-eye. After dark we shall listen for the strange rasping call of the exceedingly rare Seychelles Scops-owl, which we will hopefully also see, staring at us in our torch lights.
Day 9 We have a free day to enjoy the ambience of Pointe Au Sel beach, or maybe explore further afield, but if we need better views of the Scops-owl, there will be another optional outing this evening.
Day 10 We have a short transfer to the airport for the return flight home.
Galery