Dates
-
Tour Cost
-
Single room supplement
-
Group size
8 or max 12 with two leaders
Tour leader
Daniel Cazo and Local guide
Airport
Malaga-Malaga
W

hat´s included

All ground transport, ferry from Spain to Morocco, all meals, services of guides and reserve entrance fees. We will stay in very good quality and warm rural hotels which serve excellent local food. All rooms have private facilities. We have found similar accommodation in Andalusia as we offer in the Pyrenees at Boletas.
W

hat´s not included

Transport to / from UK and any overnight stay that may be involved, travel insurance, drinks and any items of a purely personal nature.
T

our code

The most important migration stream from Europe to Africa, a birding experience you should not miss. Exquisite seafood and selection of Spanish "tapas" some days for lunch.
S

elected species list

Marsh Owl, Black-crowned Tchagra, Red-necked Nightjar, Spanish Imperial Eagle, Little Swift, Bonelli´s Eagle, Azure-winged Magpie, Ruppell´s Vulture, Black Stork, Red Knobbed Coot, African Blue Tit.
Introduction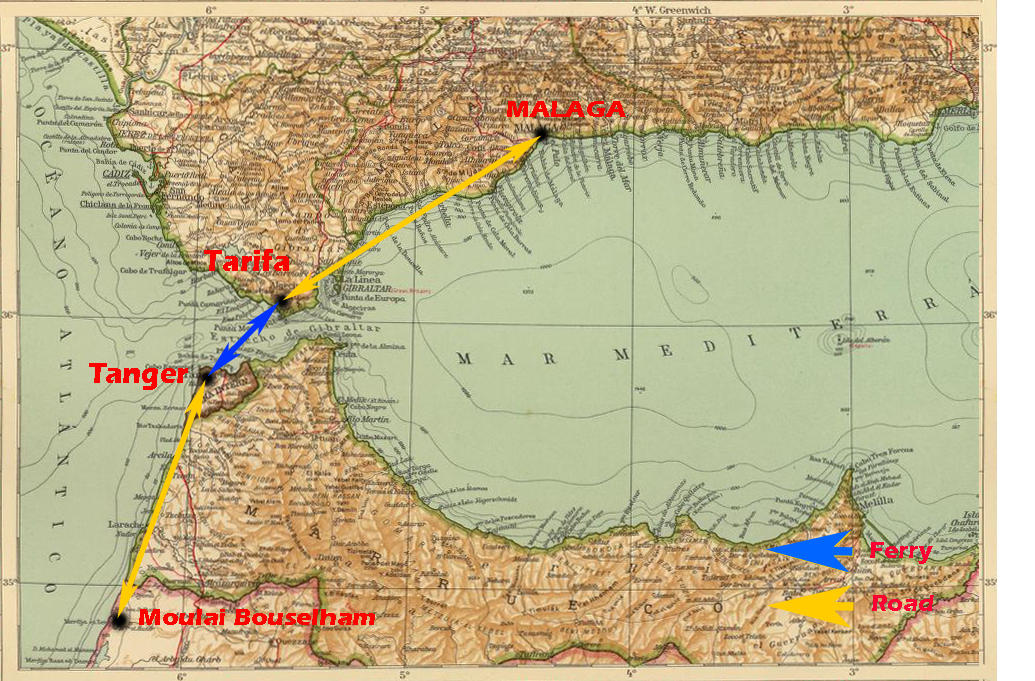 Here is a completely new concept in birdwatching. Never before has such a tour combined both sides of the Straits of Gibraltar to explore the most important bird migration route of the Western Palearctic.
Most observers concentrate on the Spanish side, but what happens to all those migrants that arrive in Africa ? Over 250 species of bird have been recorded crossing this stretch of sea. Raptors are the most spectacular, but the migration of pelagic birds, storks, egrets and passerines such as bee-eaters, larks and hirundines as well, is quite impressive on both sides, Andalusia in Spain and the northernmost part of Morocco.
We will concentrate our efforts on studying this migration spectacular, firstly in Spain and then in Morocco, where we will visit the internationally recognised Merja Zerga, where Marsh Owl will be an important target bird. Due to the warmer temperatures of the last decade or so many birds are not migrating as far into Africa and this will give us good opportunities to see birds such as Great-spotted Cuckoos and Squacco Herons, which were not wintering in the area twenty years ago. Visiting several watch points, we will enjoy the endless flights of soaring vultures, kites, eagles, harriers and storks while countless small birds take their last food before they 'jump' the Mediterranean Sea to their wintering sanctuaries. This Autumn migration is an experience that all nature and bird lovers should not miss.
Itinerary
Day 1: Malaga Airport – Zahara de los Atunes
Meet and welcome at Malaga airport. Drive birding on route and stop in the watchpoints between Algeciras and Tarifa see the several raptors crossing the Strait , such as, Egyptian Vulture , Sparrowhawk , Booted and Short-toed Eagle s, European Honey Buzzard and maybe also Black Stork. Rarer migrants, such as Rüppell's Vulture can be identifies flying together with the numerous Griffon Vultures in the area. Overnight in Zahara de los Atunes

Day 2: Zahara – Los Alcornocales Natural Park
Pre breakfast walk by the beach in front of the hotel where Audouin´s Gull , Sanderling, Kentish Plover and Marsh Harrier are regular visitors. Today wewill visit the forest of Los Alcornocales Natural Park, which houses a wide variety of passerines and supports a strong community of raptors. Amongst the most interesting species we must not forget to mention Firecrest, Crested Tit, Western Bonelli's Warbler, Serin, Woodlark , Woodchat Shrike , Short-toed Treecreeper Sardinian Warbler... After visiting Los Alcornocales we continue to Los Barrios where there are good chances of observing Ospreys, Golden , Bonelli´s eagle and among vultures , storks and kites. Overnight In Zahara de los Atunes.

Day ,3,4: Zahara de los Atunes – Los Lances Beach – Algeciras watchpoints
Those two days are concentrate in the hottest sited fro Migration. After breakfast heading to Los Lances beach, one of the best places to see waders on migration as well as different species of gulls and terns. Among a range of commoner species we look for rarer birds which regularly appear such as Lesser Crested Tern or perhaps Eurasian Dotterel which use this reserve during their autumn migration. The road leading to Algeciras provides some of the best places to see thousands of birds on active migration... flocks of European Honey Buzzards , Black Kites and White Storks are some of the species that should be seen from such watchpoints plus Booted and Short-toed Eagleswill be seen for sure, while smaller numbers of Black Stork and Egyptian Vultures use the same route to fly southwards. Overnight in Zahara de los Atunes.
Day 5: Zahara – Laguan de Medina - San Lucar de Barrameda
Early morning breakfast and ready for a long driving to the edge of Donna National Park in the southeast boundary of the Guadalquivir river. The Salt pans of San Lucar hold o good concentration of waders , raptors and Slender-billed gulls, in the nearest natural lakes we will search for two of the most emblematic and sough after ducks in the pale artic the White-headed Duck and Marble Teal other possible birds include wryneck and Iberian Shrike . After typical Spanish Lunch of "tapas" we will head to the Medina lagoon one of the highest concentrations of White-headed Duck. Overnight in Zahara de los Atunes.

Day 6: Tarifa to Tanger
We will take the ferry between Tarifa and Tangier in north Africa, crossing the waters of the Straits of Gibraltar with good chances to see dolphins; Bottlenose Dolphins, Pilot Whales or even Orcas, could be seen during our boat trip though the Strait of Gibraltar waters. Besides chances for Cory's and Balearic Shearwater, terns and Gannets. Once in Tanger we will then drive to our new base in the littoral hills of Jebel Kebir from where we will reach the best watch points for migrants soaring from Spain, local specialties as Common Bulbul, African Blue Tit and African Chaffinch can be localized. Before dusk we will take our ferry back to Spain. Overnight in Tarifa.
The schedule for the boat trip will depend on weather and sea conditions

Day 7: Zahara – - La Janda
After Breakfast we will head to the plain of La Janda, just to the north west, is an excellent site for both raptors and wetland birds as well as passerines. The best place in the area to see Black-Shouldered Kite and juveniles of Bonelli´s and Golden Eagles also Lanner Falcon has been recorded. Many other species, such as Montagu's Harrier, Rufous Bush Chat, Bee eater and Red rumped Swallow but will now be on the move. After Lunch in a local restaurant where we will enjoy the most typical Spanish "tapas" we will drive to Tarifa watchpoints to enjoy the migration experience. Overenight in Tarifa
Day 8 : Pre breakfast birding around the hotel gardens , Hawfinch, Red-necked Nightjar, Crested Tit, Firecrest are a few of the birds can be localized. After breakfast Drive to Malaga Airport to take ¡your flight back home.
Galery
Testimonials
Hi Chris/Philip/Lois

Briefly, Cota Donana & Tarifea trip excellent, hotels great, wildlife excellent, Josele great character, nice group, flights on-time, even arrived back at Gatwick ahead of schedule.
More later Mike - 2007
***************
Hi Josele

Just wanted to say thank you for a great trip (20-27 September). You looked after us well, we were delighted with what we saw and we both really enjoyed everything. Even Hotel Riad wasn't a problem for us once you had repaired the toilet!
We look forward to another Boletas tour in the future although it seems you are almost FULLY BOOKED for much of 2010 !! Good for you.
Best wishes. Kathie and Mick Claydon - 2009
***************
Dear Josele
Thanks again for ensuring such a successful trip.
We will certainly be interested in further trips - perhaps the 2012 Morocco trip if not before.
Selection of images attached - always difficult to get quality "shots" but I think the're good enough for identification purposes. Perhaps you can check my ID's and if any are wrong please let me know.
Best wishes to you both.
Sandra & Alan 2010
**************
Hello again Josele.

Since returning to the UK I've had lots of catching up to do, so sorry for the delay in sending this email.
Just wanted to say how much I enjoyed the week, and to thank you for all the hard work and organisation that went into making the week so enjoyable and rewarding.

You promised plenty of raptors - and you certainly delivered! I have a few reasonable pictures and plenty of very happy memories.

Hopefully I will find the time to meet up with you again sometime in the future.

Kind regards Steve - 2010
**************
Dear Josele
Cheryl and I both certainly enjoyed the recent tour to Spain & Morocco. As usual, the planning that you put into the tour ensured that everything went smoothly and that we were able to experience the raptor migration south and were able to see some fabulous birds.
I have a attached 2 photographs of the crimson speckled moth taken last week - hope you like them.
Peter & Cheryl Smith October 2014
**************