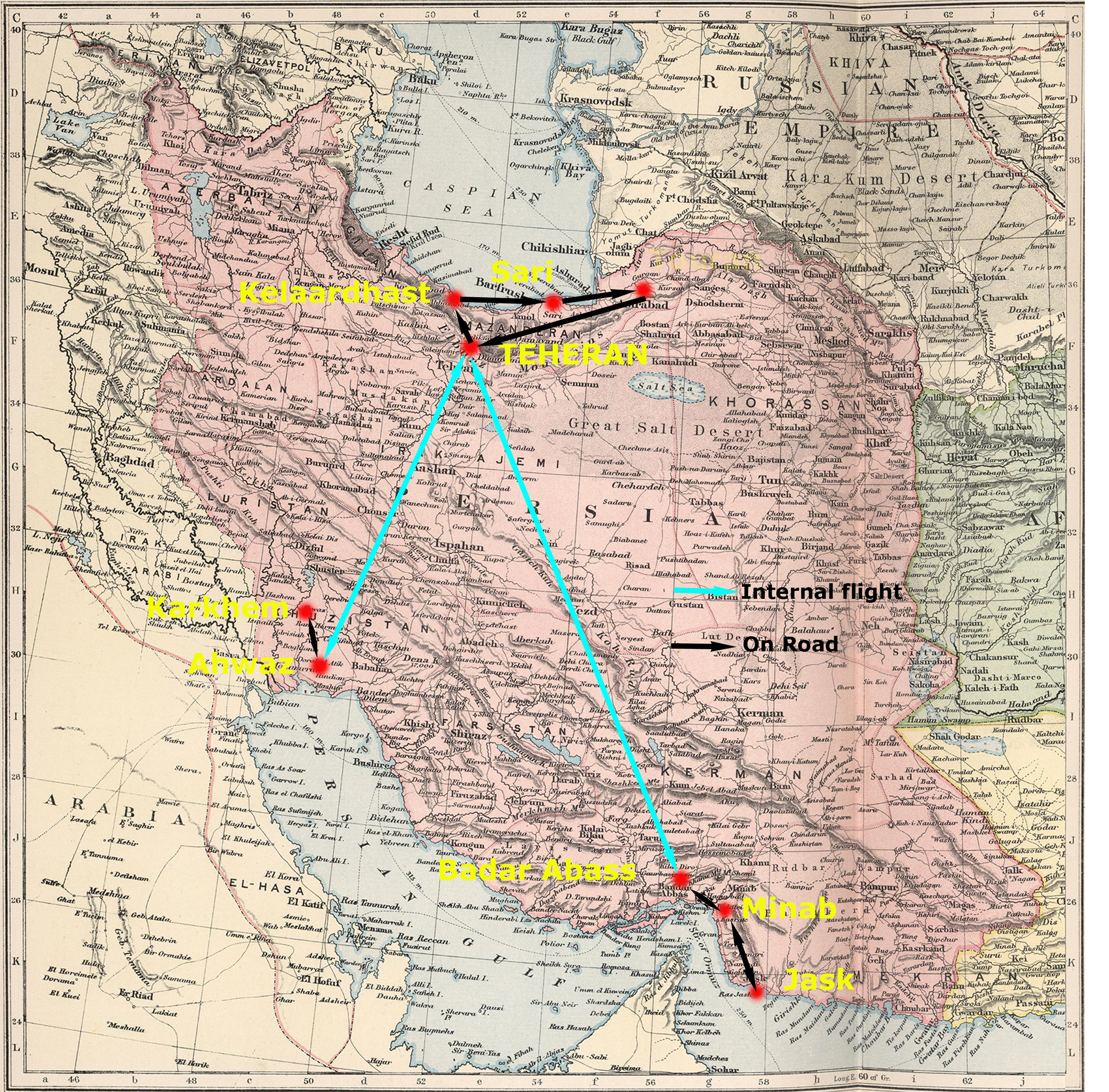 DAY 01: ARRIVAL TEHRAN- FLY TO BANDAR ABBAS- MINAB (100 KM)
Arrival at Tehran's IKA Airport; meet and transfer with tour guide to Mehrabad Airport for morning flight to Bandar Abbas, as available! Bandar Abbas is one of the Iran major southern cities, situated on the shores of Persian Gulf. Habitats here consist of stony out-washed plains with scattered vegetations and bushes, almondand pistachio woodlands and cliffs. Upon arrival; first we will visit the city coastal areas to see Indian sand larks, remaining of the flocks of waders and if we are lucky we can find Great Knot and Broad-billed Sandpiper among many lesser and Greater Sand plovers, Grey and Kentish Plovers, Common Greenshank, Common Redshank, Whimbrel, Temminck's Stint, Sanderling, Eurasian Spoonbill, Caspian Terns, Great Cormorant, Green Sandpiper, Black-tailed and Bar-tailed Godwits and Eurasian Oystercatcher; and all of these are if time permits! Later in the day we drive for 100 km to get to Minab for overnight stay at Tourist Inn. hotel.
DAY 02: MINAB/EXCURSION TO JASK AND MANGROVE FOREST (130 km)
Early morning drive along the road towards Jask, where palm gardens and local orchards create an ideal habitat for many woodland birds: Oriental Honey-buzzard, Spotted Owlet, Eastern Olivacious Warbler, Red-wattled Lapwing, Indian Roller, Laughing Dove, Lesser Whitethroat, Chestnut-shouldered Sparrow, Isabelline Wheatear, very common Purple Sunbird and the rare and regional endemic Sind pied Woodpecker which is our main target this morning! In the drier habitats and wadis we may find Graceful Prinia, very common Little green Bee-eater and White-eared Bulbul, Turkestan and Bay-backed Shrikes, Pallid Swift, Pale Crag-Martin, Eastern Orphean Warbler, Indian Silverbill, Afghan Babbler and Variable Wheatears. After lunch and some rest, we will drive shortly to reach mangrove forests for further birding. Mangroves of this region are perfect habitats near the mouth of local rivers where Mangroves, Avicennia marina, grows on very long shores of the river mouth. The area is one of the best and most pristine environments of this kind in the Persian Gulf shores and excellent habitat for Important Indian pond heron, Dalmatian Pelikan and great stone-curlew. With luck we may encounter with few Crab Plovers still remain following the migration season. The other birds to expect are Oriental White-eye occurring among the lush mangroves and a wide range of herons along the shoreline. Return back to Minab for overnight stay at hotel.
DAY 03: MINAB
Early morning starts with birdwatching in a different habitats north-east of Minab. The new place is more open plateau with scattered bushes ideal for Grey Francolin, Chestnut-bellied and Crowned Sandgrouses, Upcher's warbler, Rofous-tailed scrub Robin and with luck Grey-necked Bunting. Return back to Minab for mid-day rest and lunch. Later in the afternoon, we will visit areas south of Minab near the mouth of local rivers for more waders and water birds; return back to Minab for overnight stay at hotel.
DAY 04: MINAB-BANDAR ABBAS-TEHRAN-AHWAZ
Drive to Bandar abbass for flight to Ahwaz, as available. If time permits, we will bird in areas near Bandar abbass/Ahwaz. Upon arrival in Ahwaz, direct transfer to hotel for rest and overnight stay.
DAY 05 & 06: AHWAZ/ EXCURSION TO KARKHEH AND DEZ PROTECTED AREAS (150 km)
In these two days we will explore the areas north of Ahwaz where two major rivers of Dez and Karkhe creates ideal habitat for an important Iraq Babbler, Grey Hypocolius, Mesopotamian Crow, Egyptian Nightjar and Ménétriés's Warbler. Another primary quarry in this area is the range-restricted Basra Reed-Warbler. Other birds to expect are Dead Sea Sparrow and Black-winged Kite. Here we also will encounter with large numbers of Red-wattled Lapwing, Blue-cheeked Bee-eater, White-throated and Pied Kingfishers, Collared Pratincole and European Turtle Dove. Rare possibilities include Pied Bushchat and Namaqua Dove. Time-permitting, we will also explore the Shadegan lagoon where we hope to see white-checked Terns and Marbled Duck from distance! Return to Ahvaz for overnight stay at Hotel. (B-Box/L/D)
DAY 07: AHVAZ-TEHRAN-KELARDASHT (200 KM)
Today we have a long day with morning transfer to airport for flight to Tehran, as available. Upon arrival at Mehr Abad; we will be picked up by our 4X4 cars for direct drive to Kelardasht, a small town located in northern slopes of Alburz mountain range. Here is totally different world! To reach here we will drive on a beautiful scenic mountainous road connecting barren slopes of southern Alburz to lush broad-leaf forest of northern Alburz and Caspian Sea coastal areas. En-route we can stop for short birding especially in high altitude of 3000 meters mountain pass to see Rock Sparrow. Continue to Kelardasht for three night stay at modest local hotel. (B/L/-)
DAY 08: KELARDASHT
Today is dedicated to less-known Caspian Tit. We will drive dirt road in the northern faces of Alburz Mountains surrounding Kelardasht where the oak and scattered hawthorn trees occur in altitudes above 2000 meters; creates the best habitat for Caspian Tit. We need the use of our 4X4 cars to reach beautiful upper forest habitats to see this bird in its natural living area. Other birds to expect are Eurasian Wryneck, Green Woodpecker, Great, blue, coal and Sombre Tit, Long-tailed Tit, Ortolan Bunting and Lesser Whitethroat. Afternoon we will return back to Kelardasht for overnight stay at hotel. (B-BOX/L/-)
DAY 09: KELARDASHT
Today we mainly aim to see Caspian Snowcock. This majestic bird lives in very high altitudes in northern faces of Alburz and parts of Zagros Mountains while this area is one of the main habitats with very good populations of Caspian Snowcock living on the 3500-4000 meter altitude of Alam Kooh Mountains. During morning we will drive about an hour in a bumpy dirt road to reach altitude of 3500 meters –depending on the dirt road condition!- where we have a chance to see Caspian Snowcock on the ridge of mountains around us. The other birds to expect in the lower altitudes are Black Redstart, Red-fronted Serin, Raddes Accentor, Persian and Pied Wheatear, Northern and Finches wheatear and Rufous-tailed rock Thrush. Afternoon return back to Kelardasht for overnight stay at hotel.
DAY 10: KELARDASHT-BABOLSAR-SARI (220 KM)
Morning drive to eastern coastal regions of Caspian Sea near Babolsar to visit small ponds in the shoreline located among rice fields where we have the chance to see Black-headed penduline Tits busy weaving the nest in local willow trees during spring. Afternoon drive to Sari; a capital of Mazandaran province for overnight stay at hotel.
DAY 11 & 12: SARI-TOURAN NATIONAL PARK (380 km)
Morning drive to Touran National Park via Kiasar and Shahrud cities. We are going to spend the next 2 nights in a local house in Qale bala village located in the boundaries of Touran National Park/Biosphere Reserve. Touran consists of a very vast steppe semi-arid deserts and arid mountains with the Artemisia and Artemisia-Zygophyllum steppes in the north, which is a main habitat for the endemic Pleske's Ground Jay and Asiatic Desert Warbler. The other birds to expect include Black-bellied and Crowned Sand Grouses, Desert Lark, Bar-tailed and Crested Lark, Pale-crag Martin, Trumpeter finch, Steppe Gray Shrike, Macqueen's Bustard, Eastern Olivacious and Scrub Warbler, Desert Wheatear, Masked Wagtail, Desert Finch, See-see Partridge, Eastern Rock Nuthatch and with luck Cream-colored Courser, Hooded Wheatear and Upcher's warbler. Early in the season, common migrants include Green Warbler and Red-breasted Flycatchers. We are also anticipating to find rare Onager (known as Asian wild ass) in the southern parts which generally consists of steppe deserts. overnight stay at local house.
DAY 13: TOURAN-TEHRAN (520 KM)
We leave Touran and drive westward to reach the capital. En-route we will stop in some places near Parvar Protected Area to look for more birds, notably White-throated Robin, Pale rock Sparrow and Trumpeter Finches. Tehran is located on the southern slopes of Alburz and on the foothill of 4000 meters Touchal Mount; overnight stay at Hotel.
DAY 14: TEHRAN DEPARTURE
Early morning transfers to IKA airport for departure flight.