Itinerary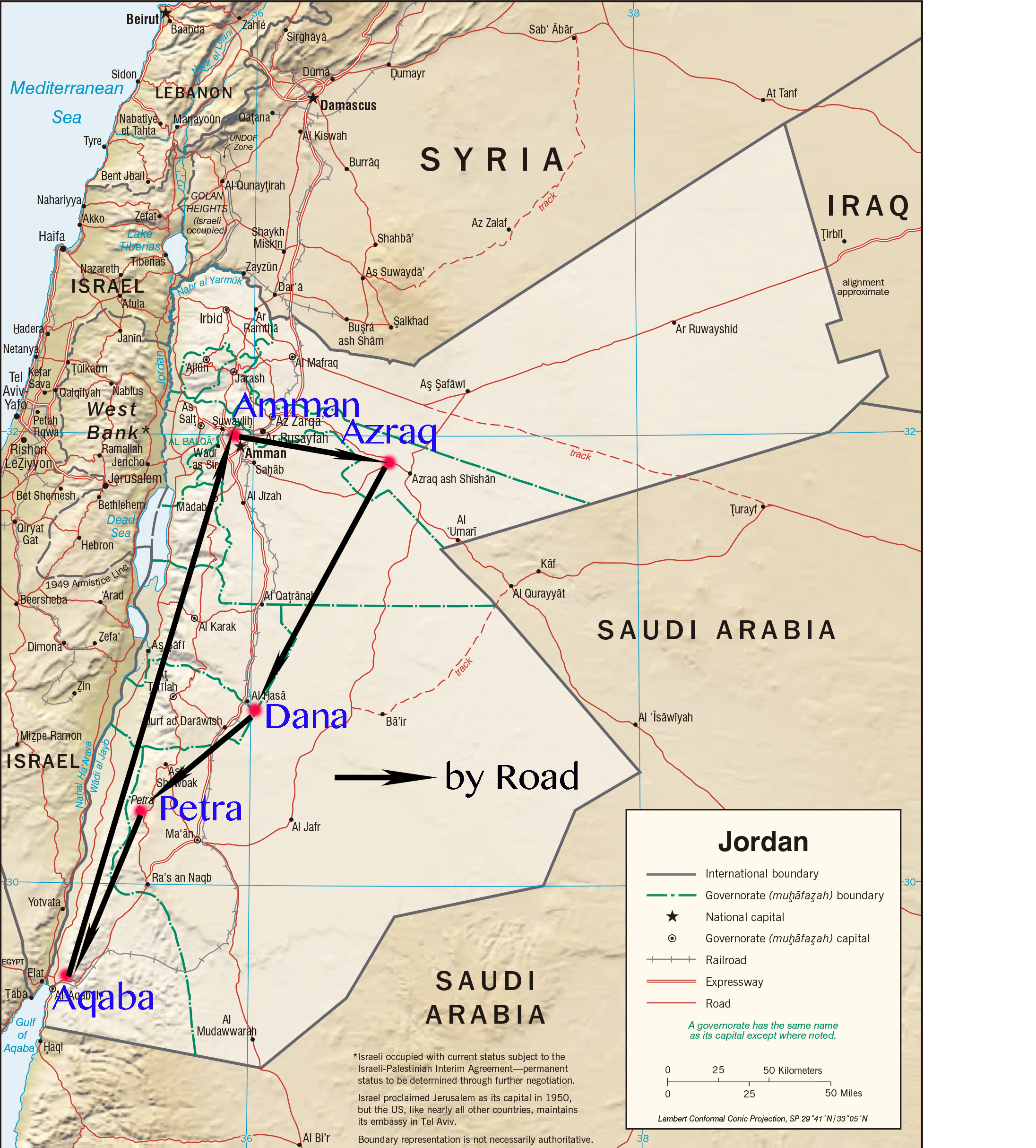 Day 1 . Amman airport – Amman
Arrive to Amman airport. The local agent will meet and help us with the VISA and transfer to our hotel GERASA HOTEL AMMAN 4*
(*) If the flight arrives later tan 20.30 hrs. It s not possible to have dinner at the hotel. Instead dinner we will have or pic-nic or packed lunch.
(**) Flight time permitting we will visit Amman

Day 2 AMMAN - DANA
We wlll go in the morning, after breakfast to the Biosphere reserve of DANA
Birds of prey are well represented in the reserve too; there are many migratory species, as well as Bonelli's Eagle, which breed there. Dana is also a good place to spot Syrian serin. At times, the skies of Jordan are full as the dramatic spectacle of thousands of black kites, steppe eagles and steppe buzzards soar overhead. The afternoon will be free to soak up the atmosphere and to explore around the campsite – perhaps sitting by the drinking pool to watch the Yellow-vented Bulbuls and possibly even Tristram's Starlings coming down to drink. Rock Hyrax and Nubian Ibex are still rare in Jordan but the chance of seeing one on the extensive crags below are increasing.
Overnight in DANA GUESTHOUSE. Hotel to be decided but 4*

Day 3 – DANA - BEIDA - PETRA
After breakfast enjoy our last time of the reserve. The Dana reserve encompasses a major wadi that leads down from the hills to the Wadi Arabah (Jordan Rift valley) more than 1000m below. Here we should be able to see Steppe & Bonelli's Eagle, Black Kite, Long-legged Buzzards, Lanner Falcon, Sand Partridge, Chukar, Pallid & Alpine Swift, Rock Martins, Rock Sparrows, Blue Rock Thrush and House Bunting. By midday we will head to the "Little Petra" looking for raptors nesting in the area. Overnight in OLD VILLAGE RESOR. Or similar
Day 4 - Petra
The whole day will be spent exploring the extensive site of Petra. One of the most spectacular archaeological sites in the Middle East, Petra dates back to the fifth and sixth centuries BC, when it was an important centre for the Nabataean Arabs. These cultured and artistic people occupied a crucial position in the old caravan routes between Africa, India and Europe, and grew wealthy on their monopoly of this trade. That prosperity fuelled the development of a large city and the construction of a wide array of palaces, temples and tombs, which were elaborately carved out of the multicoloured but mainly red sandstones. The patterns in the sandstones are worthy of a visit in their own right and are as photogenic as the tombs themselves – bring plenty of card memory.In this incredible place many different birds live. Some of these birds could include Sinai Rosefinch, Tristram's Grackle, Rock Martin, Fan-tailed Raven and Desert Larks. Overnight in OLD VILLAGE RESORT. Or smilar
Day 5.- PETRA - WADI RUM - AQABA
Following breakfast we will head to Wadi Rum, made famous by Lawrence of Arabia. En route, we will stop to admire the view from our high-level road which looks down on Petra and across to Aaron's Tomb against a backdrop of Wadi Araba and the Negev Desert. We will briefly look for Isabelline Wheatear before descending the Ras an Naqab escarpment with our first views of Wadi Rum. Lunch is a campsite.
The local Bedouins will take you on a tour of Wadi Rum in their 4x4 jeeps (6 pax per jeep) to the great
mountain of Al Khazali.
In the afternoon we willhead to Aqaba. Time permitting we will visit the bird observatory. Overnight in or hotel CITY TOWER HOTEL AQABA 4*
Day 6 - AQABA
We will have breakfast. Heading down to the port of Aqaba, you're in migrant heaven! At the right times of year you can expect Collared Flycatchers to be perching on postcard stands, Thrush Nightingales contact calling from under parked cars and explosions of Levant's Sparrowhawks from bushes and trees as you pass them. No different to Eilat in this respect but in Aqaba, you will probably be the birder finding these birds. As previously mentioned, the coastal strip is a series of irrigated allotments full of warblers, chats and pipits. Aqaba also has a fantastic sewage works! A sewage works at the top of the Red Sea has to be worth a visit! It is true to say that many of Jordan's rarest sightings come from this site. Birds are welcome but its situation close to the border makes this a sensitive military area. One has to seek permission to gain access but it is well worth the hassle. Recent highlights include Painted Snipe, Cotton Teal, Pink-backed Pelican, Grey-headed Gull and Pacific Golden Plover. Migratory water birds, raptors and passerines cross through mainly during the spring and autumn migration. This major point along the Eurasian-African bird migration flyway attracts the Little Green
Bee-eater, Desert Lark, Blackstart, Hooded Wheatear, White- crowned Black Wheatear, Arabian Warbler, Sooty Falcon. White-eyed Gulls are a Red Sea specialty that can only be seen in Aqaba in Jordan.
Overnight at CITY TOWER HOTEL AQABA 4*
Day 7 - AQABA - WADU MUJIB - AMMAN
After breakfast we will go to the Wadi Mujib Reserve .
This spectacular wadi in the Jordan Rift Valley is a unique landscape that lies within three geographic zones. Seasonal and permanent streams run through the reserve, ultimately pouring into the Dead Sea. The nature reserve in Wadi Mujib is another important passagef or migratory birds. More than 220 species have been recorded here. It is a breeding spot for birds of prey such as Bonelli's Eagle, Barbary Falcon, Eagle Owl and the globally threatened Lesser Kestrel, which breeds in the eastern highlands of the reserve every spring. White Storks pass through here, along with Black Storks, Buzzards, HoneyBuzzards and Levant Sparrowhawks. Other birds that can be spotted here are Hooded Wheatear, Sand Partridge, Little Green Bee-eater, Rock Martin, , Roller, Black-eared Wheatear, Blue Rock Thrush, Fan-tailed Raven, Blackstart and Tristram's Starling.
In the afternoon after dinner we will head to Amman birding on route.
Overnight in Amman GERASA HOTEL AMMAN 4*
Day 8 .- AMMAN – SHAUMARI -AZRAQ

After breakfast we will go ahead to the black Basalt Eastern Desert to the Azraq Wet Land Reserve.
On the way we will visit the Qasr al Kharana overlooking a stony plain which we will explore for Temminck's Lark, Desert Lark, Desert Finch, Little Owl, Thick-Billed Lark, Desert Wheatear and migrants.
Qusair Amra,an Omayyad bath-house, is situated on Wadi al Butm where we will explore the tree-lined wadi for migrant birds – we may be lucky and discover a migrant Red-Breasted Flycatcher, Collared Flycatcher, Warblers, Thrush Nightingale amongst the Lesser Whitethroats, Redstarts and other common migrants.
Azraq wetland:

After a welcome , we will visit the Azraq wetland after  our evening meal. The huge spring-fed oasis at Azraq was once one of the most important wetland sites in the Middle East. Unfortunately, today it has been adversely affected by water extraction, and the presence of extensive freshwater (and hence our detailed itinerary) will depend on the amount of rainfall during the previous winter. The wetland reserve still contains a few pools and there are boardwalks and a hide from which we hope to see some waterbirds.
If you drive out side the reserve you might see Hoopoe Lark and other migrants.
Shomari: migrants. Buzzard, Pallied Harrier, Marsh Harrier, Stepp Eagle, Sacker, Falcons, Hobby.Overnight in Overnight in HOTEL AZRAQ WETLAND RESERVE. Or similar
Day – 9 - Amman airport
After breakfast and seme break for optional shopping, wewill be delivered in Amman airport to take our flight home.
Galery